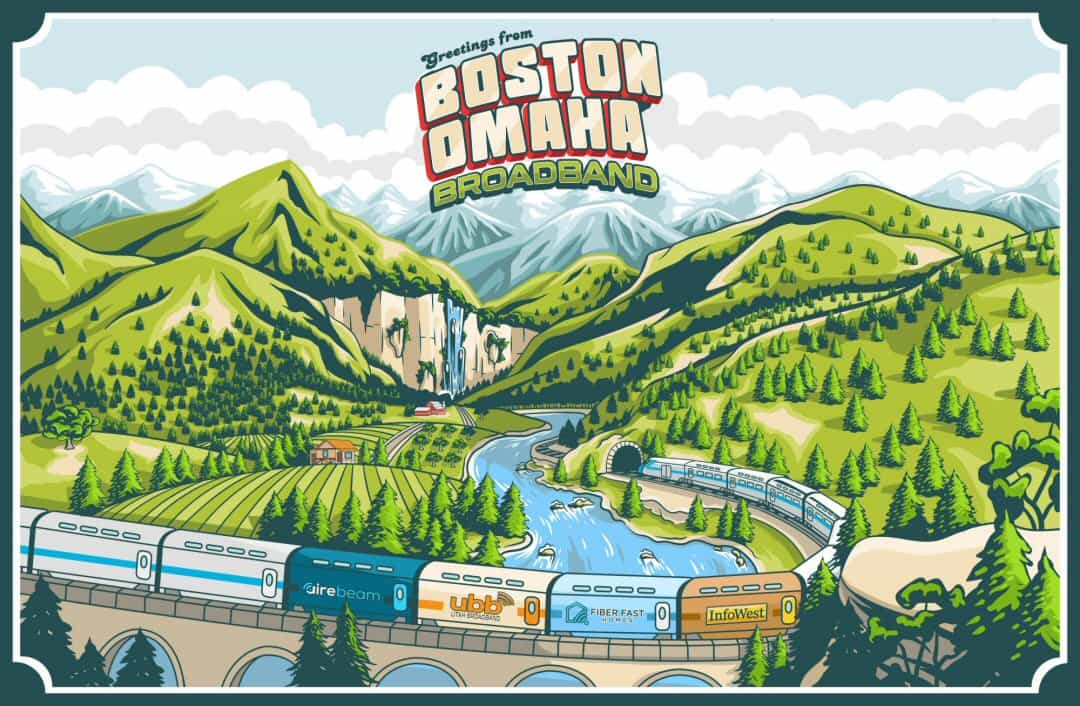 We're Here to Help You Grow
Boston Omaha Broadband (BOB) seeks to partner with Internet service providers (ISPs) to accelerate fiber deployment. If you are an ISP operator in need of capital to rapidly expand your fiber network, we want to hear from you. We are looking to partner with great teams in underserved markets to buy or invest in or with.
Boston Omaha Broadband is a subsidiary of Boston Omaha Corporation (NYSE: BOC), a public holding company with subsidiaries in four verticals: Broadband, Outdoor Advertising, Insurance/Surety, and Asset Management. Read more about Boston Omaha Corporation
Boston Omaha Broadband companies have a presence in 17 states in the US and growing.
The Boston Omaha Broadband family includes four high-performing broadband companies.
We currently provide Internet service to over 40,000 subscribers.
Looking for capital to grow your ISP?
Boston Omaha Broadband Leadership
Steven McGhie, CEO, Boston Omaha Broadband
As the founder of Utah Broadband, Steven McGhie understands how to build and grow ISPs. In 2002, he self-funded and grew Utah Broadband to become one of the largest and most respected ISPs in Utah. In December of 2020, Steve partnered with Boston Omaha Corporation to create a broadband division focused on fiber to the home and fixed wireless services throughout North America. He understands how to grow an ISP organically as well as through acquisition, having acquired 10 other ISPs throughout his career. Steve loves the outdoors, fishing, hiking, biking, pickleball, and golf.
Frank DeJoy, COO, Boston Omaha Broadband
Frank DeJoy joined Boston Omaha Broadband as COO with over 30 years of experience in the telecom industry. Previously, Frank has worked with companies such as AT&T, General Dynamics, Quanta Services, Dycom, Spectrum Effect, and Render Networks, where he specialized in global business, network, and product development leadership. He has led the growth of a wireless data network unit from inception to over a billion-dollar ARR within three years and large-scale deployments of fiber to the home and wireless cell sites across the United States. Frank is also well-versed in the global deployment of innovative software solutions that streamline broadband network construction and wireless network operations. Frank is a Senior Member of The Institute of Electrical and Electronics Engineers (IEEE) and earned an MBA and a Bachelor of Science in Electrical Engineering with Highest Honors from Rutgers University. Outside of work, Frank enjoys spending time with his family in San Diego, attending his daughter's extracurricular activities, exercising outdoors, and following his favorite sports teams. 
Max Meisinger, CFO, Boston Omaha Broadband
Max Meisinger joined Boston Omaha Broadband as CFO with over 12 years of experience in the finance industry. Max began his journey with Boston Omaha in May of 2019, serving initially as Corporate Controller before being promoted to Chief Accounting Officer of Boston Omaha Corporation (NYSE: BOC). Previously, Max worked for KPMG, LLP as Senior Manager of Kansas City's audit practice where he served a diverse group of clients ranging from large public FORTUNE 500 companies to small start-ups throughout various industries. Max is a licensed CPA and received both his B.S. in Business and Masters in Accounting from the University of Kansas. When he's not crunching numbers, Max enjoys getting outdoors, golfing, fishing and spending time with his wife and two children.
Ben Elkins, CEO, AireBeam
Ben Elkins is the CEO of AireBeam, a Boston Omaha Broadband company providing residential and commercial fiber and fixed wireless Internet service in Pinal and Maricopa Counties, Arizona. Ben has strong management skills and an extensive knowledge of the telecom industry, having over 20 years of experience. Previously, Ben was the COO and CSO of GP Voice/Voce Telecom, where he excelled in business development, negotiations, and financial responsibility. Winning landmark deals, both domestically and internationally, along with leading teams from across the globe, provided Ben with the knowledge and experience to be a great leader at AireBeam. In Ben's free time, he loves spending time with his family and golfing.
Taunya Martin, President, Utah Broadband
Taunya Martin is the President of Utah Broadband and joined the company in 2006 as its COO. She has been instrumental in growing and leading Utah Broadband to become a leading ISP in the Utah market. While at Unisys Corporation, she held management positions in Accounting, Human Resources, Manufacturing, and Engineering. With her extensive experience, she took a position with Square D, a division of Schneider Electric, working both in Marketing and Manufacturing. As Vice President of Manufacturing, she led the establishment of a manufacturing operation in Shanghai, China. Taunya, a native of Utah, graduated from Brigham Young University with a B.S. in Business and a minor in Economics and Accounting.
Kelly Nyberg, CEO, InfoWest
Kelly has been involved in the Telecom and Internet industry since he helped start Southern Utah's first Internet service provider in the early 90s. During his almost 30 years at InfoWest, he has completed over 14 acquisitions, expanded and grown the company, and helped develop new technologies. He pioneered the rollout of the first dialup, DSL, cable, wireless, and fiber broadband networks in Southern Utah. He has overseen all aspects of InfoWest's operations, including network expansion, marketing and sales, new product development, day-to-day operations, and everything in between. Kelly graduated from Dixie College and continued his post-graduate work at Southern Utah University. He has served on the Board of Directors for the St. George Rotary, Southern Utah Home Builders, and other local organizations. In 2006, Kelly was named Entrepreneur of the Year by the Dixie Business Alliance and Washington County Economic Development Council. Kelly is married and has four amazing children.
Scott Sampson, CEO, Fiber Fast Homes
Scott is an experienced executive with extensive knowledge in all aspects of the IT and Telecom industries. He has worked with companies like Arrow Electronics, ULA, and Rio Tinto, as well as successfully sold an ISP that he co-founded. Scott is known for building high-achieving teams. He's an avid skier in his home state of Colorado, and if you join him for a Zoom call, you'll see his love for Star Wars memorabilia on display. He also enjoys attending estate sales with his wife and children and actually finds working on cars to be a relaxing hobby.
Boston Omaha Corporation Leadership
Adam Peterson, Co-Chairman and Co-Chief Executive Officer, Boston Omaha Corporation
Adam Peterson has been the Co-Chairman and Co-Chief Executive Officer of Boston Omaha Corporation (NYSE: BOC) since 2015. Adam is also the founder and managing member of The Magnolia Group, LLC, an investment advisor managing private partnerships since its founding in 2005. He also serves on the Board of Directors of Nelnet, Inc. (NYSE: NNI) and Nicholas Financial (NASDAQ: NICK). Adam and Brendan Keating have partnered in private real estate (debt and equity) since 2011 via The Aligned Group and 24th Street Asset Management. Adam holds a Bachelor of Science in Business Administration with a concentration in Finance from Creighton University.
Alex Rozek, Co-Chairman and Co-Chief Executive Officer, Boston Omaha Corporation
Alex Rozek has been the Co-Chairman and Co-Chief Executive Officer of Boston Omaha Corporation (NYSE: BOC) since 2015. He also serves as the Managing Member of Boulderado Partners, LLC, a private investment partnership founded in July 2007. From 2004 to 2007, Alex served as an analyst for Water Street Capital and Friedman Billings Ramsey Group. Prior to that, Alex worked for Hunton & Williams and FedEx. He also serves on the Board of Directors of Sky Harbour Group (NASDAQ: SKYH) and Dura Software. Alex has experience partnering in various private real estate transactions, debt, equity, residential mortgage, and servicing assets. Alex graduated from the University of North Carolina at Chapel Hill with a B.S. in Biology and a minor in Chemistry.
Read more about what Boston Omaha Broadband and our portfolio companies are up to.
Let's Grow Together. Contact Us: